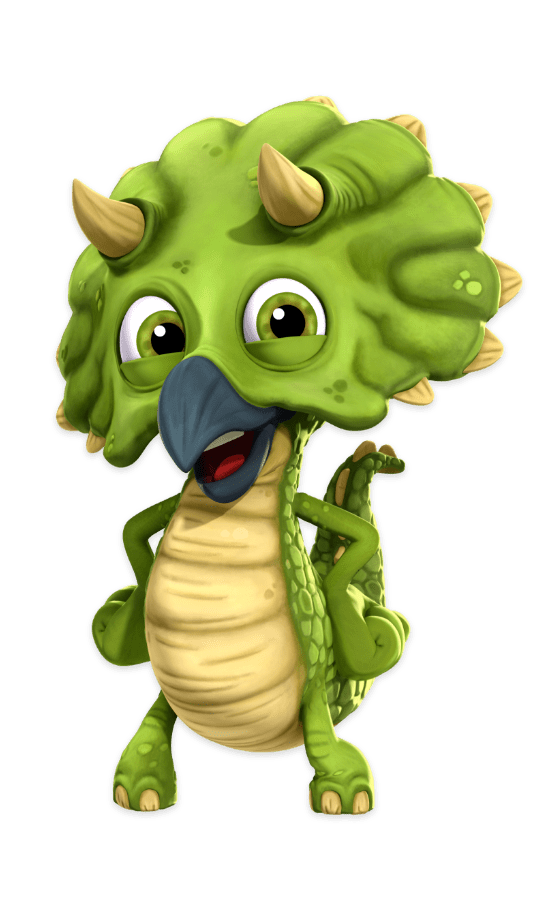 Type: triceratops
Age: 9 years old
She likes: drawing, singing and having fun!
She doesn't like: A mud bath (yuuuuuck!)
Her strength: She doesn't take anything seriously!
Her weakness: She doesn't take anything seriously!
She dreams of: becoming the friend of every dino in the whole wide world!
When you're a triceratops, there are three things (apart from horns) you cannot avoid: mud baths, teeth brushing (and when you have between 400 and 800 teeth, you definitely have your work cut out) and tree uprooting competitions.
For sweet, delicate Tiny, the whole thing a complete drag!
Don't you believe what they say about Neanderthal Men: they didn't invent rock painting – Tiny did! As a fashionista and a true artiste, she loves nature and all things beautiful (which is somewhat an oddity in such barbaric and unsophisticated times).
She could spend hours decorating everything with her drawings. She'd even take on Gigantosaurus' flank when he's asleep!
Tiny is always hyper-positive. She dreams of better world where the focus would shift away from that whole "devouring each other" business… She never gives up which is why she's the only one who believes that Gigantosaurus isn't that bad.
As far as she is concerned, there has to be some goodness somewhere in that beast!